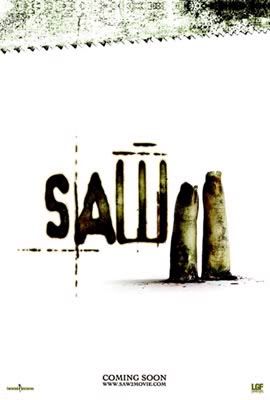 Directed by: Darren Lynn Bousman
Written by: Leigh Whannell and Darren Lynn Bousman
Starring: Tobin Bell, Shawnee Smith, Donnie Wahlberg, and Dina Meyer
I just watched Saw II for the first time. Okay, spare me the dirty looks. I know I'm behind the times. I mean…we're just a few months away from Saw III. But trust me, I have a good excuse. I watched the first film on opening night back in 2004 and was disappointed. The story was good, and the twist at the end was very nice, but amazingly horrible acting of Cary Elwes nearly ruined the entire experience for me. So when I learned there was to be a sequel, I was curious, but not excited. Finally, I had heard enough good buzz from people I trusted that I decided to put the flick into my Blockbuster On-line que.
The movie opens gruesome enough. A man wakes up and finds he is strapped into a medieval torture helmet filled with sharp spikes. On a television in the corner of the room, we see the puppet face of the "Jigsaw Killer." Jigsaw (Tobin Bell) tells the man he must unlock the device before a timer goes off or it will snap closed. Problem is…the key is hidden in the man's eye socket. He is given a scalpel and a mirror and must dig around to find it in time. The scene is frantic, the suspense real and agonizing.
For those unfamiliar with the franchise, Jigsaw is a man who is dying of cancer. Being close to death has given him a new appreciation of life. He wants to share this new awareness with others…perhaps turn some lives around. To accomplish this goal, he puts these lost souls into situations, tests that will require them to make choices in order to survive. If they succeed, Jigsaw hopes they will now value their own lives.
In Saw ll, the scope of Jigsaw's crusade has expanded greatly. This time, we are not confined to a single room. No, no, no. This time, our killer has booby-trapped an entire abandoned house and filled it with a group of eight people who, we are told, all have something in common. If this were the movie Cube, the characters would work together and talk things over, make an attempt to discover why they were chosen, then try to understand the rules outlined by Jigsaw on the many notes and audiotapes he has left them throughout this maze of death. But these players are not that smart. They ignore Jigsaw's taped warnings and clues. And when they learn that one of them (Shawnee Smith) has played the game before and survived, they don't even bother to grill her for survival tips. Instead, they run from one room to the next, tearing the place apart and falling into Jigsaw's traps.
If the players had stopped to ask questions, they might have learned that one of them (Erik Knudsen) is the estranged son of Detective Eric Matthews (Donnie Wahlberg), the cop that sent them all to prison for one crime or another. Like the characters in the house, Matthews is not interested in playing Jigsaw's twisted game. With the help of his partner, Detective Kerry (Dina Meyer, another Saw vet), he must find the location of the house before it is too late.
"Jigsaw" is an appropriate name for our killer, because this movie is missing some pieces. The opening is strong, and the ending is filled with wonderful twists and turns that surpass the original, but the middle act of the film is its weakest link. Saw writer and co-star Leigh Whannell co-wrote the screenplay with first-time director Darren Lynn Bousman, giving us a group of characters trapped in a labyrinth with little or no back story. The first film was all about discovering why the characters wound up chained in a bathroom. This film is more concerned about getting from one bloody trap to the next. While many of these tortures are ingenious and cringe-worthy, it would have helped to know something about the characters being asked to take part in them.
Despite these flaws, I must admit that I enjoyed Saw II.
The real joys of the film (for me) were not the various death machines, but the scenes between Wahlberg and Bell. It is obvious the writers were trying for a Clarice Starling/Hannibal Lecter type of chemistry between these characters. The movie falls well short of that, but the actors do a marvelous job of playing opposite ends of the human spectrum. Wahlberg is all passion and emotion. He wants to act. He wants to find his son and save him. And the tension in his face, the tears in his eyes, work to convey his anger and fear. Bell, on the other hand, is nothing but cool intellect. He has the game all mapped out, and there is never a moment when he isn't playing. From the calm of his carefully chosen words to his gravelly voice and cold stare, he is always in control.
"What is the cure for cancer?" Jigsaw asks again and again. Perhaps it is money. No matter how old and sick the killer gets, it is clear Lion's Gate studios will try to keep the Sawfranchise alive. After this latest round, I must admit, I'm more anxious to see where they take these characters next. All I ask is that they keep Cary Elwes out of it.
3 out of 5 stars.