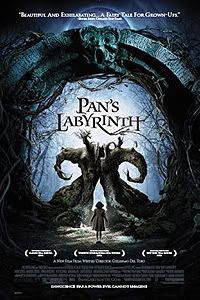 Original Spanish Title: El Laberinto del Fauno
Directed by: Guillermo del Toro
Written by: Guillermo del Toro
Starring: Sergi Lopez, Maribel Verdu, Ivana Baquero, Alex Angulo, and Doug Jones
I recently had an email discussion with a friend of mine about the current state of cinema. He is a huge movie buff, like myself, and he sent me a list of the films he had seen in 2006, complete with ratings. He saw quite a few movies, but on his scale of 1-10, a good 60% of them earned only a 5 or a 6, and there were more that faired worse than better. I may have disagreed with some of his rankings (He put The Nativity Story above The Descent, and he walked out of Nativity after about 45 minutes!), but I had to agree with his overall point: there wasn't much to get excited about.
That was before I saw Guillermo del Toro's masterwork, Pan's Labyrinth .
It is 1944. The Spanish Civil War is over, and Generalissimo Francisco Franco has assigned a garrison of his fascist guard, led by a sadist named Captain Vidal (Sergi Lopez), to the task of rooting out rebel forces in the hills and forests just outside Madrid. The film opens with the arrival of Vidal's family: pregnant wife Carmen (Ariadna Gil) and stepdaughter Ofelia (Ivana Baquero). Carmen is in poor health, and the trip has not helped her situation. She spends her time in bed, leaving Ofelia in the care of housekeeper Carmen (Ariadna Gil).
To escape the brutality of Vidal, and the sickness of her mother, little Ofelia creates a fairy tale world where she has at least some control over her destiny. A "real" fairy leads her deep into a garden labyrinth, and there she meets Pan (Doug Jones), a tall creature with twisted horns and wrinkled flesh, who tells her that she is a princess, and that she can only return to her kingdom if she completes three tasks—tasks that bring her face to face with a giant frog, a horrible creature with eyes in its hands (also Jones), and ultimately, her stepfather.
Writer/director del Toro (Hellboy, Mimic) uses the myriad of tricks at his disposal (computer graphics, make-up effects, production design, cinematography, and editing) to tell his triumphantly adult fairy story, but the performances of the actors and actresses really make us believe in it. Ivana Baquero's emotional and earnest turn as Ofelia gives the movie its soul. Sergi Lopez achieves new heights of villainy with Vidal, yet somehow manages to keep the character from becoming caricature. And special kudos must go to Doug Jones. The only American on the set, he had to memorize his lines in a language he does not speak, then found that the noisy servo motors in his faun costume would not allow him to hear Baquero's dialogue, so he had to memorize her lines as well in order to know when he could talk.
The story behind Pan's Labyrinth could be a film in and of itself. At one point, when he forgot his production notes in the backseat of a cab, del Toro thought the production would never get off the ground. Thanks to a very honest and dedicated cabbie, however, years of work were returned, and the director became more passionate about his project than ever. Fans of great cinema everywhere owe that driver their undying gratitude.
Pan's Labyrinth is at times heartbreaking, fantastic, brutal, and full of hope, but what it ultimately does is restore your faith in movies. There are truly great stories out there, and truly great filmmakers ready to bring them to the screen. All you have to do is believe.
5 out of 5 stars.