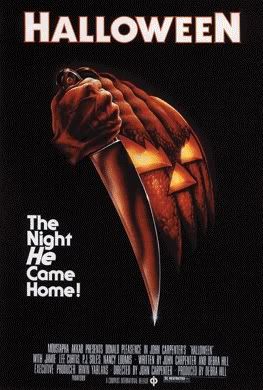 Working title: The Babysitter Murders
Directed by: John Carpenter
Written by: John Carpenter and Debra Hill
Produced by: Debra Hill
Starring: Donald Pleasence, Jamie Lee Curtis, P.J. Soles, Nancy Loomis, Charles Cyphers, Kyle Richards, Arthur Malet, David Kyle, and Nick Castle
I'll admit it: I'm a creature of habit…of tradition, if you will. Every year, I must watch It's A Wonderful Life sometime on or shortly after Thanksgiving. Call me sappy, but it just doesn't seem like the Christmas season unless I've seen that flick at least once. The same is true about my beloved All Hallow's Eve. Sure, I can carve a pumpkin and put graves in my front yard, but I'm just not fully into the festive spirit of the holiday until I watch John Carpenter's Halloween.
This film is terrifying from the very first frame. The camera slowly pushes in on a Jack-O-Lantern—the only light on an otherwise black screen. Names flash around the blazing pumpkin, and we hear music. Chilling music. Carpenter's main theme is one of the most memorable in motion picture history and sets the stage for the terror that follows. After the last credit appears, we are welcomed to Haddonfield, IL. It is Halloween night, 1963, and the camera rushes toward an innocent looking house—beginning a single, continuous POV shot that rivals Orson Welles' opening to Touch of Evil. We see what Michael Myers sees as he grabs a butcher knife from the kitchen, creeps up the stairs, and slips on a clown mask. We then watch helplessly through the eyeholes of the mask as he walks into his teenage sister's bedroom and stabs her repeatedly. His act of murder complete, Michael walks out the front door and onto the lawn where a man and a woman wait. They remove the mask and we see that this killer has been a six-year-old boy.
Fast forward to October 30th, 1978. Myers is now an adult and must appear before the court. When his psychiatrist (Donald Pleasence) arrives to escort him, Michael steals the car and heads back to Haddonfield. He arrives on Halloween, finds three teenage friends to stalk—Laurie (Jamie Lee Curtis), Annie (Nancy Loomis), and Linda (P.J Soles), and picks up where he left off 15 years before.
John Carpenter's Halloween was a terrifying experience in 1978 and it remains just as frightening today. If you have never seen it in the widescreen format, however, you have never truly experienced it. Carpenter knows how to use the scope aspect ratio to the fullest. Characters will be walking or talking calmly in the foreground while something lurks off to the side or in the window behind them. Sure, the slasher films that followed have copied this technique, but none have been able to duplicate the artistry and execution Carpenter achieves here.
The writing in the film is also key to building suspense. Debra Hill and Carpenter have fashioned real teenage girls with strong friendships and real-life problems. We grow to care about them, and that makes the danger they are in far more palpable.
Acting is often the sore spot in a horror film. Not here. Despite the fact that Christopher Lee was originally offered the role, it is impossible to imagine anyone but Donald Pleasence as Dr. Loomis. He delivers Carpenter and Hill's long soliloquies on the nature of evil with a soft voice that draws you in. Like Robert Shaw's Indianapolis story in Jaws, you are riveted to every spine-chilling word. Pleasence also uses his eyes to great effect. They are always looking—always searching for his elusive foe. And Jamie Lee Curtis is perfect as Laurie. She is shy and vulnerable, but she is strong when she has to be. There have been countless "virginal" heroines in slasher movies. They are all trying to be Jamie Lee, and they all pale by comparison.
John Carpenter's Halloween is simply flawless. This is what every horror movie aspires to: atmospheric, fun, frightening, and relentless. Required viewing for everyone who considers themselves a fan of the genre. Light the Jack-O-Lantern, grab a bowl of candy corn, turn out the lights, and let the season begin!
5 out of 5 stars