Directed by: Craig Singer
Written by: Robert Dean Klein and Craig Singer
Staring: Jamie-Lynn DiScala, Patrick Renna, David Clayton Rogers, Alex Solowitz, Andrea Bogart, Jennifer Tisdale, and Dave Warden
I'm sorry to say that I missed much of the After Dark Horrorfest: 8 Films to Die for. I was, however, able to catch a Tuesday night encore featuring two of the festival's entries: Takashi Shimizu's Reincarnation and Dark Ride. One film was an example of the heights which horror could attain, given a good story and writing, great acting, wonderful direction and special effects. The other was Dark Ride.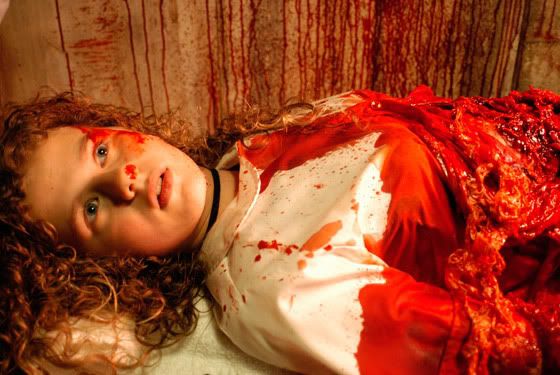 The film opens in 1989 (We'll discuss the appropriateness of that a bit later). Twin sisters enter a New Jersey Amusement Park to go through the horror-themed funhouse ride, and once inside the attraction, they are quickly killed by a hulking man in a mask. Cut to an opening credit montage of newspaper clippings that start by showing the discovery of the girls bodies, move on to the trial and conviction of their killer, the killer being sent to an asylum, and then ends with a headline that the ride is about to re-open. Ooooh…scary! Next, we are introduced to a group of college kids who are leaving school for Spring Break in a van. During a stop at a gas station and restaurant, they find out about the rides grand re-opening and dare each other to spend the night inside. Meanwhile, the crazed killer who was responsible for the death of the twins escapes from his mental institution and heads for the Amusement Park. Bet you can't see where this is going? Yes, before you can even get the first rule to surviving a slasher movie out of your mouth, these young adults are smoking dope, having sex, and getting killed left and right, causing the viewer to wonder not who will live, but how these morons ever got into college to begin with.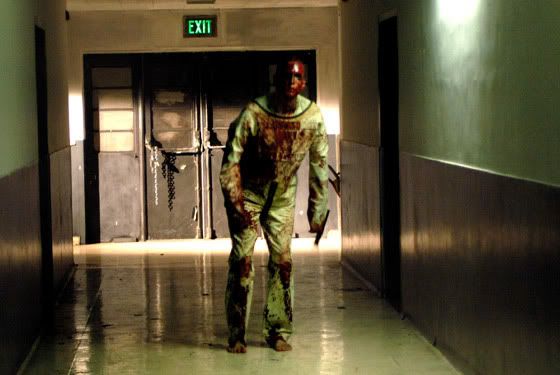 By setting the opening of their film in the slasher's playground of the 1980's, writers Robert Dean Klein and Craig Singer show a great fondness for the sub-genre. In fact, it's quite clear that the pair never met a slasher film they didn't like and want to steal from. The entire plot is lifted directly from Tobe Hooper's far superior Funhouse. The escaped mental patient idea has been used and used again, but add that to the smiley face mask and some shocking strobe-lit shots, and you've got yourself a rip-off of Clownhouse. While traveling down the road, the group picks up a hitchhiker, ala Hooper's Texas Chainsaw Massacre, who bares more than a passing resemblance to Rob Zombie's wife from House of 1,000 Corpses and The Devil's Rejects. There is a practical joke setup that reminds us of Killer Party and April Fool's Day. The ending has the distinct echo of Happy Birthday to Me, and I could go on, and on, and on.
The acting was often the sore spot of a slasher movie, and Dark Ride is no different. As the killer, Dave Warden gives the only truly good performance in the entire film, and that might be because he doesn't have to utter a single word of dialogue.
Was there anything at all to recommend Dark Ride? Sure. There is a killing near the end of the movie. A man's head is literally split in two. Compared to the film's other make-up effects, it is very well done. Also, the filmmakers were somehow able to afford the talents of composer Christopher Young (Hellraiser, The Fly II) to write the main title theme. It's a wonderful piece of creepy carnival organ and music box chimes that adds a grand sense of menace and maniacal glee. It's a shame the rest of the movie could not live up to the promise of that cue.
2 out of 5 stars.