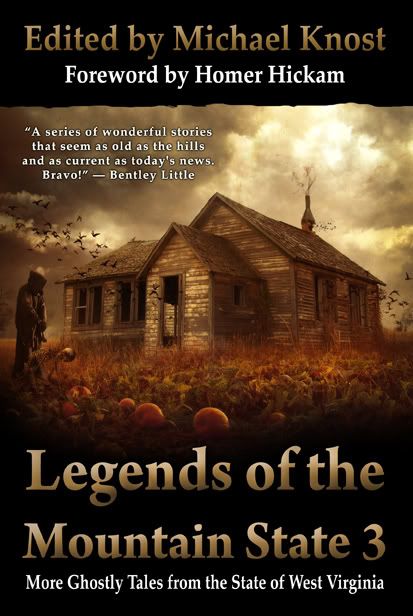 NOW AVAILABLE FOR PRE-ORDER! 
From the Woodland Press website:
"The third and final installment of the Legends of the Mountain State series is already being called the most amazing of the ghostly trilogy. Michael Knost again takes the reins as chief editor and coordinator. Here you'll find 13 final chapters—bone-chilling ghost tales and treacherous legends—to delight the reader. Stories are penned by many of the preeminent writers in the business. The tone in this project is perhaps darker, tales creepier, and the overall texture even grittier than the first two installments.
"'(West Virginia) is often portrayed with absurd stereotypical elements. Movies like Deliverance, Wrong Turn, and many others offer the impression that the Mountain State is overflowing with ignorant, incestuous, bloodthirsty hillbillies—and as my fellow Mountaineers know, that simply is a false view," Michael Knost writes. "This is why I love the Legends of the Mountain State series. Writers from all over the United States (and a few from Canada) offer respectful stories depicting our citizens as normal American's caught in the middle of a spooky legend or ghost story.'
"Foreword by Homer Hickam, one of America's most beloved authors. Pre-order today. Legends of the Mountain State will ship on or before October 12th, 2009.
Legends 3 contributors include:
• Elizabeth Massie
• Michael West
• Scott Nicholson
• John R. Little
• Brian J. Hatcher
• Kelli Dunlap
• Matt Venne
• Douglas F. Warrick
• Steve Verno
• Fran Friel
• Matthew Warner
• Mark Justice
• J.G. Faherty
$18.95″
Be the first to get a copy!  Click here to order!