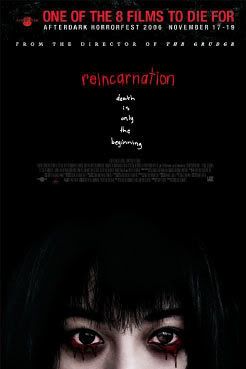 Original Japanese Title: Rinne
Directed by: Takashi Shimizu
Written by: Takashi Shimizu and Masaki Adachi
Staring: Yûka and Karina
I love it when a movie surprises me. I'm not referring to twists and turns in the plot that I don't anticipate (although I do love that). I'm talking about watching a film that you know little or nothing about it—having low, maybe even no expectations of any kind. For months now, I'd seen ads on Sci-Fi channel and AMC for the After Dark Horrorfest: 8 Films to Die for, but I had no knowledge of what the individual movies were. Having missed the weekend showings, I was able to catch the Tuesday night encore of two of the festival's films. I bought my ticket, took my seat, and waited for the lights to go down in the theater (Which didn't happen until the credits were rolling! Thanks to the guy two rows down who got up and informed the booth.). Then, "Directed by Takashi Shimizu" appeared on the screen, and I got scared for all the wrong reasons. I recently sat through Shimizu's incredibly awful The Grudge 2, and that was two hours of my life that I will never get back. However, my fear of enduring a horrible movie was quickly replaced by the joy of watching a true Horror film: Reincarnation.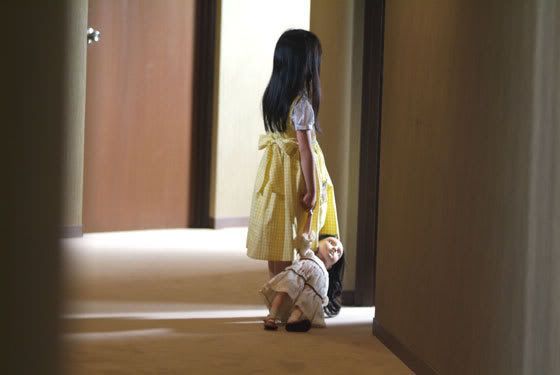 In 1970, while on vacation with his family, a university professor apparently went insane and killed 11 people at a secluded mountain hotel, including his young son and daughter. 25 years later, a driven writer/director has chosen the incident as the basis for his next film, "Memory." It's an appropriate title, because the movie's female star is having visions of the hotel and a little girl with a very odd doll, vivid nightmares in which she experiences the horrors of that day as if she had been there. As the first day of filming draws near, the cast and crew come to believe that the spirits of those murdered at the inn are not yet at rest. In fact, they want revenge.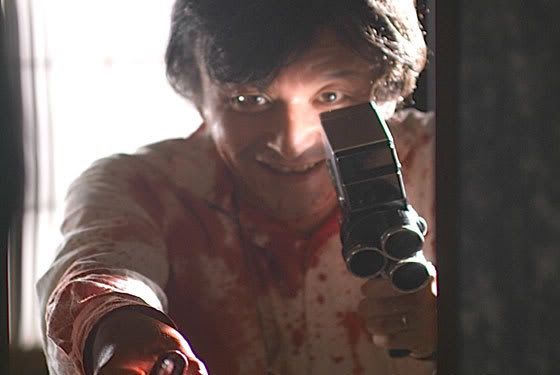 Writer/director Takashi Shimizu pulls out all the stops to shock and frighten. He uses a hand-held camera and grainy Super-8 film to create a horrifying snuff film—showing the death of the children, guests, and staff, then switches to intricate Steadycam shots that glide and chase. Shimizu even takes a page from James Cameron's Titanic, utilizing state-of-the-art digital effects for seamless transitions between the run-down, condemned hotel of the present and its pre-slaughter glory. Once the director has us in his thrall, he never lets go. While the film begins as an all-too familiar ghost story—giving us plenty of those gray, vein-covered ghosts that are now cliché to anyone who has seen The Ring, The Eye, Ju-on, A Tale of Two Sisters, and countless other Asian Horror films, but it quickly becomes something far more mysterious and surprising. As the movie's storyline evolves, so too does its pacing. J-Horror can be notoriously slow, concentrating on mood and atmosphere for its chills instead of the gory action found in many American-made films. Here, however, the editing gets quicker, building to an incredible climax that has elements of everything from Night of the Living Dead to Child's Play, and yet it still manages to maintain a unique identity.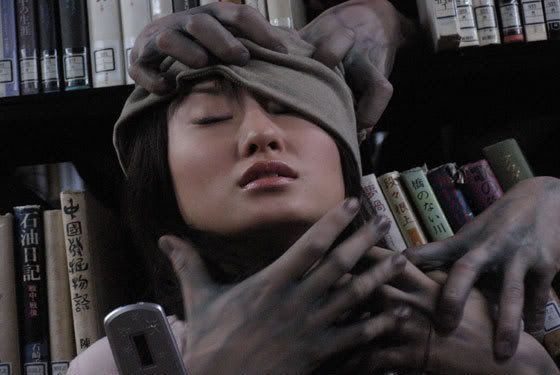 With Reincarnation, Shimizu proves that the original Ju-on was no fluke. Here is a writer/director who knows how to make our hearts beat a little faster and our blood run cold. I knew nothing about this film before I saw it, but now I can't seem to get it out of my mind. Horrorfest may be a thing of the past, but I have no doubt that Lionsgate Studios will be bringing the movie to DVD very soon. I recommend Horror fans see it quickly, before Hollywood decides to perform its own brand of reincarnation.
4 out of 5 stars.